www.ptreview.co.uk
Written on Modified on
At first glance, choosing an actuator comes down to whether the unit can deliver the necessary performance to meet application requirements.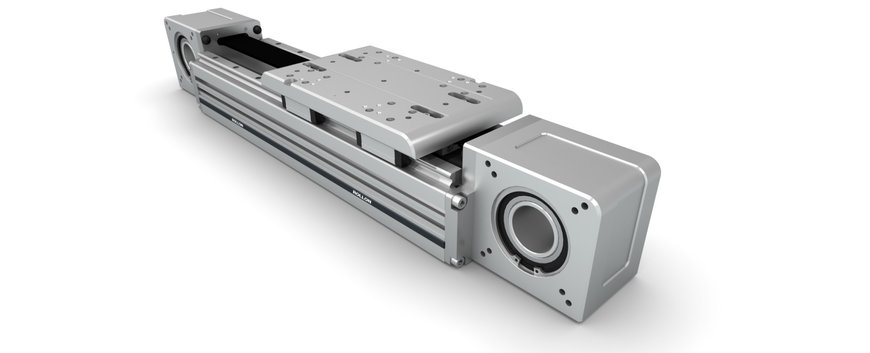 However, it can be easy to overlook an actuator's assembly needs, particularly when it comes to mounting the motor and gearbox. For example, space constraints can make mounting components challenging, while other projects may require a change to the mounting configuration out in the field. For these situations, we offer robust actuators that incorporate hollow shaft heads, enabling engineers and system integrators to employ multiple mounting strategies.

Hollow Shaft Heads Provide Greater Mounting Freedom
For applications without enough space for a gearbox and motor to be mounted to an actuator, hollow shafts on the drive allow you to choose from a variety of mounting positions. They also fit any gearbox on the market. For example, if you prefer a gearbox with a shaft, we'll provide a shrink disc that will accommodate the gearbox shaft. Various shrink disc sizes are available for keyless shafts depending on the actuator.

We can also provide:

Stub shafts for gearboxes that don't come with a shaft.
Mounting plates that fit almost any gearbox on the market.
Support for direct drives using a linear slide kit and 90-degree angle gearboxes.
Hollow shaft designs also facilitate changes in the field. Other actuators may constrain mounting to one side without the ability to change the mounting configuration. Rollon actuators with hollow shaft heads are designed for mounting flexibility. The gearbox and mounting side can be changed even when the actuator is on the floor. We can also help create custom configurations via adapter plates, shrink discs or stub shafts.

Our hollow drive shaft heads are available in Smart System and Plus System actuators. Here's how they simplify mounting and allow greater freedom:

Smart System linear actuators' symmetrical driving heads make it possible to install the gearbox easily in four different positions using the same procedure. With various gearboxes available, the hollow shaft offers a versatile option for machine designs with space constraints.
Plus Series actuators feature a new driving head that accommodates the gear unit's expandable hub for quick and easy mounting. The head allows the gearbox to be mounted on the right or left side of the actuator by means of a standard assembly kit.
Expand Your Gearbox Mounting Options
Sometimes you may decide an actuator is just right for your design, only to encounter various constraints when it's time to mount the motor and gearbox. We remove installation barriers by outfitting the actuators with hollow shaft heads while also offering mounting kits and accessories that maximize installation flexibility. When you're looking to expand your mounting options, be sure to speak with a Rollon sales engineer.

www.rollon.com