www.ptreview.co.uk
Written on Modified on
Choosing a belt-driven linear actuator for automated machinery comes with a common problem: It can be hard to find all the high-performance features and reliability attributes you want in a single unit.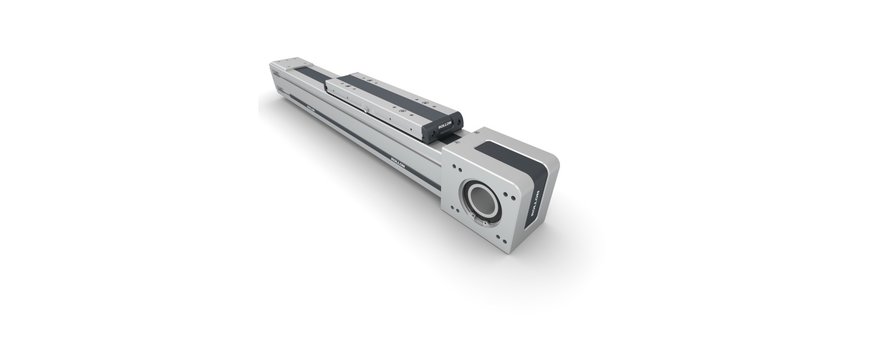 Although you'll find many actuators available from various manufacturers, your selection will likely involve trade-offs. Another option is to produce your own actuator, but that comes with a long list of processes that includes design, testing, fabrication, packaging and installation, each with inherent time and labor costs.

However, machine builders are not limited to these two unappealing options. A newly enhanced class of belt-driven linear actuator products combines sturdy construction, protective features and high performance characteristics for load, moment control, speed and acceleration. Rollon Plus System belt-driven linear actuators have a new design that lets them integrate seamlessly with any industrial machine. They are particularly suited for automated machine tools, multi-axis systems and machines subject to harsh conditions, thanks to their anodized aluminum structures and steel reinforced driving belts. In addition, this family offers an extensive set of benefits and characteristics such as:

Reliability in dirty environments. A dedicated polyurethane strip prevents dust and dirt incursion, and a side cover and optional pressurization system provide further protection.
Corrosion-resistance. Constructed of anodized aluminum, Plus System actuators are available with stainless steel elements to resist corrosion and stand up to washdowns.
Ideal for multi-axis systems. A dedicated set of accessories enables easy assembly when building high-performance multi-axis systems.
High accuracy. Plus System actuators achieve a high repeatability accuracy of ±0.05 millimeters.
High productivity. Speeds up to 5 meters/second and acceleration up to 50 meters/second2 are possible.
Low maintenance. A built-in reservoir continuously self-lubricates the ball raceways for up to 5,000 kilometers.
High load capacities and stiffness. The actuators' combination of recirculating ball guides, aluminum profile and extrusion to complex geometries gives them high stiffness and load capacities.
Versatility. The newly engineered drive head allows the gearbox to be assembled on either side of the unit.
The Plus System is comprised of three actuator types:

Plus System ELM: Versatile, completely enclosed belt drive linear actuators.
Plus System ROBOT: Well-suited for multi-axis or SCARA robots as well as heavy load applications where significant carriage pitch, yaw or roll moments are applied.
Plus System SC: Designed for vertical motion in gantry applications, or in those applications where the aluminum profile must move while the carriage remains fixed.
High-Performance Belt Actuators Without Compromise
Rollon Plus System belt actuators combine durability, accuracy and a wealth of features that have previously been hard to find in one device. With this series, machine builders don't have to make sacrifices when specifying an actuator, and they can forgo the headaches associated with creating their own unit. The result: high performance and reliability along with time and cost savings.

www.rollon.com