www.ptreview.co.uk
Written on Modified on
Manufacturing wing ribs - just the right way


For the high-precision manufacture of aircraft structural components, MSB GmbH & Co. KG has designed an XXL-size workpiece carrier system and swivel table. The system feeds aluminium blocks up to ten meters in length to a high-performance machining centre. The four synchronous drives of the swivel table were built using gear rim segments and precision planetary gearbox from Redex.
Aircraft manufacturers and their suppliers are facing tough challenges to meet the airlines rapidly growing demand and to process their order backlog as efficiently as possible. An important step in the extremely complex process chain is the milling of the aluminium wing ribs on high-speed machining centres, which mill the rib structures out of the solid material at high speed and precision. In some cases, more than 95% of the material is removed.
Precise machining at high speed
For this task, a well-known Chinese supplier to the aeronautic industry uses several Ecospeed 25100 type machining centres from Starrag Technology GmbH. These machining centres are equipped with a parallel kinematic machining head that enables highly dynamic five-axis simultaneous machining. The spindles run with a nominal power of 120 kW without interruption at 30,000 rpm in S1 mode. With an acceleration of 1 g on all five axes and jerk values of up to 200 m/s³, the linear axes also achieve very high dynamics.
The supplier uses these machines for the production of wing ribs and other structural components for various aircraft models. The first three machining centres of this type were put into operation in Korea in 2009. They achieve a maximum cutting volume of up to 10,000 cm³/min and (to name just one example) are capable of transforming a 4-ton aluminium block into a 120 kg complex structural component in less than twenty hours.
Rotary table for horizontal machining
A typical characteristic of this type of machine is the horizontal machining of vertically positioned aluminium blocks. One of the advantages of this, is that the numerous chips are automatically removed from the working area by gravity. To make this possible the aluminium blocks, which can be up to 10 meters long, are horizontally fit to a carrier pallet before to be swivel into a vertical position.
In the latest Ecospeed 25100, now in operation at the aerospace supplier, the entire carrier system and swivel table for XXL-size workpieces were designed and manufactured by MSB GmbH & Co. KG in Bischofsheim/Rhön, Germany, on behalf of Starrag Technology GmbH: The workpiece carriers are 10,000 mm long with a width of 2,500 mm and a total weight of approx. 60,000 kg (incl. the workpiece).
The pallet is clamped onto the carrier by hydraulics, fixed and rotated 90° for milling. This rotary movement has to be performed with great precision, because even slight irregularities of the movement along the carrier might introduce unacceptable tension into the final machined component.
High-precision swivel drives: Mechatronics replaces hydraulics
This requires a very high level of synchronicity of the four actuators mounted along the swivel table. Jürgen Enders, Managing Director of MSB: " We have already developed many similar systems. We have often implemented the swiveling movement with hydraulic cylinders. But this was out of the question for this project because the hydraulics take up a lot of space and require a foundation with a substructure, when the user wanted to remain flexible. That's why the designers opted for an electromechanical made with 4 gear segment driven by servo motors in association with compact three-stage planetary gearboxes. And Redex was chosen as the precision gearboxes manufacturer."
This mechatronic solution not only required considerably less space but also has further advantages. Since there is no need for a hydraulic unit with piping and hoses to the consumers, there is no risk of leakage. In addition, the power and cooling requirements of electromechanical drives are significantly lower compared to hydraulics. The drive technology chosen by MSB is therefore not only compact and highly precise, but also clean, safe and energy efficient.
Synchronous rotation with high precision
The Redex engineers designed a swivel drive consisting of four individual gear rim segments. The rotary motion provided by servo motors is transmitted to the output pinion via a three-stage KRPX series planetary gear directly connected to the motor with a 310 ratio and a maximum output torque of 10,050 Nm. In total, a maximum torque of approximately 600,000 Nm has to be applied to the rotary axis.
The pinion engages in a gear rim segment with a segment angle of approx. 95° at a pitch circle diameter of 4,496 mm, which was also supplied by Redex. The gear rim with Modul 8 teeth are hardened and ground.
KRPX: Designed for precision drives in the machine tool industry
The KRP/KRPX series Redex gearboxes have been specially developed for use in high precision rack and pinion drives for machine tools. They are characterized by extreme positioning accuracy, which is ensured, for example, by a very precise tooth engagement on the gear rim segment. The very rigid gear design contributes to the precision of the entire drive system.
In many cases, these gears (electrically braced against each other) are also used as twin drives for high-precision positioning drives, e.g. for portal milling machines or tool tables. Two further advantages for the application described here are the enclosed design of the housing, which prevents the penetration of chips, and the highly compact and cubic dimensions of the gearbox, which is mounted directly on the base frame of the swivel table without needing any additional mounting brackets.
Conclusion: Good cooperation yields a perfect result
The designers from MSB and Redex worked closely together on the development of the rotary table drive. Jürgen Enders, Managing director at MSB: "Redex closely helped us in the selection of the components and in the project planning."
In the meantime, the pallet system (including the rotary table) has been installed in China, together with the high-speed machining centre. The plant produces wing ribs with high productivity and precision and thus contributes to the rapid supply of high-quality structural components to customers in the aviation industry. MSB has also implemented large rotary tables with electromechanical rack and pinion drives from Redex in other similar projects.
http://www.redex-group.com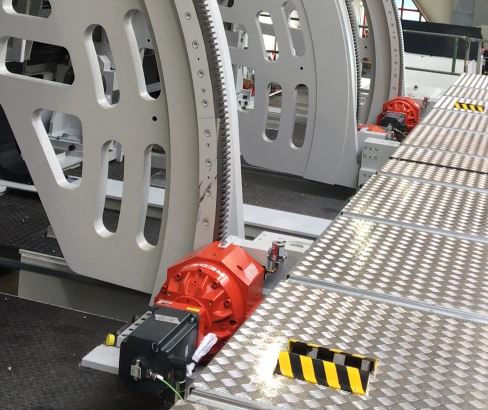 and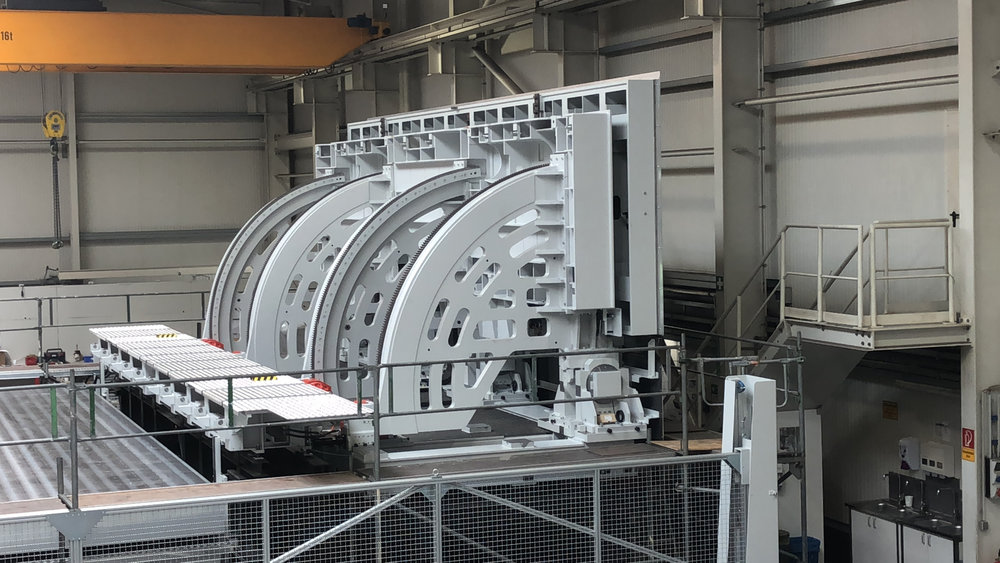 Figure 1: The Ecospeed F machining centers from Starrag have been used for the production of wing ribs and other aircraft structural components. Four slewing rings turn the 10-meter-long workpiece carrier by 90° with the component to be machined.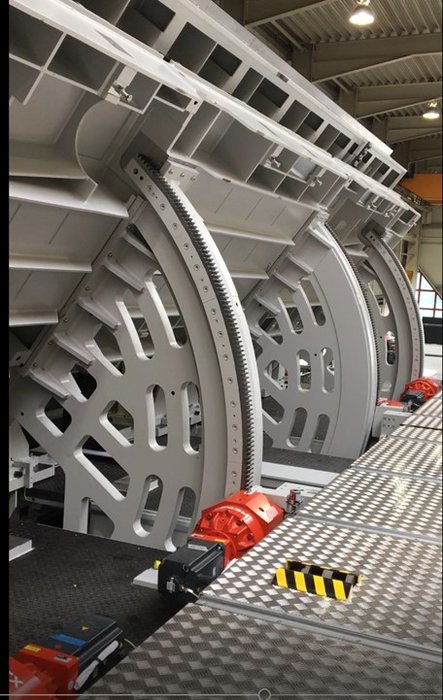 Figure 2:The synchronous rotary motion is controlled by servo motors and three-stage Redex planetary gears. A maximum torque of approximately 600,000 Nm is applied to the rotary axis.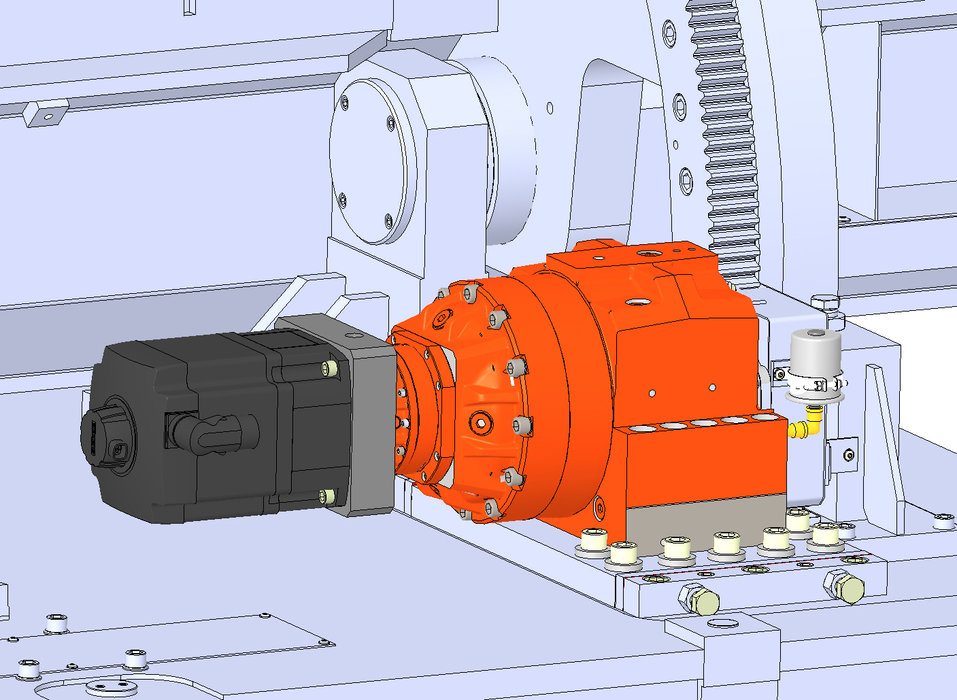 Figure 3: The CAD drawing shows how well the compact drive system fits into the surrounding construction.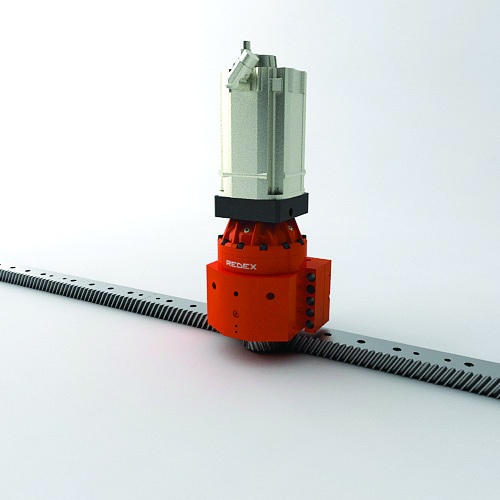 (KRPX by Redex)

Figure 4: The KRP/KRPX series Redex gearboxes have been specially developed for use in high precision rack and pinion drives for machine tools.