www.ptreview.co.uk
Written on Modified on
Munich will host the electronics industry's leading trade fair, Productronica, November 16 - 19 at the Messe München. Exhibiting at Stand 316 in Hall A3, Stäubli will demonstrate the significant impact that ESD robots can have on productivity in electronics manufacturing.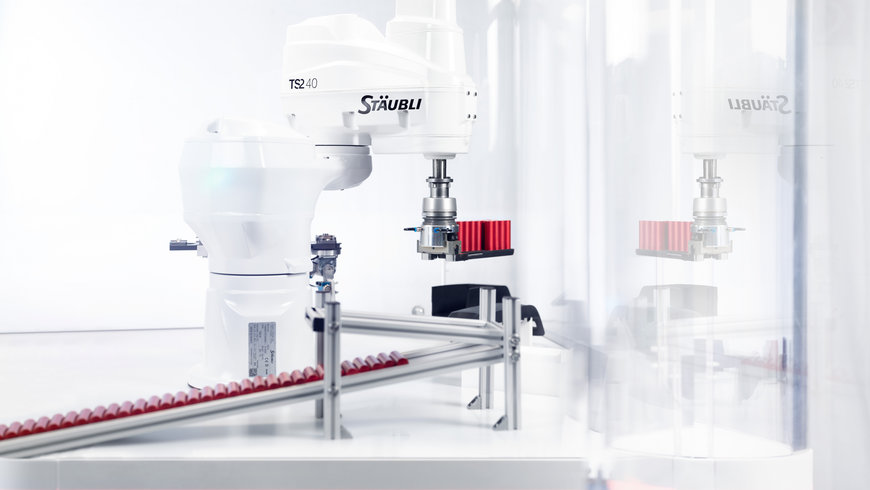 A Stäubli TS2-40 in ESD design handling batteries.

The use of robots in the electronics industry poses a specific set of challenges: The machines must be highly dynamic, precise, and reliable in continuous operation, while avoiding any risk of uncontrolled electrostatic discharge. To eliminate this risk in the production of sensitive electronic components, Stäubli offers Electrostatic Discharge (ESD) versions of its newly developed four-axis TS2 SCARA and high-speed six-axis TX2 robots.
The ESD series is designed for the assembly, testing and packaging of electronic components, guaranteeing process reliability. Typical applications include production and functional testing of printed circuit boards, control devices, sensors and gear actuator modules, as well as numerous applications in the production of mobile devices.
This assembly line for the installation of gear actuator modules uses only ESD versions that protect against electrostatic discharge.

All of the ESD robots' arm segments, from tool to robot pedestal, are grounded. In addition, the robots feature a special ESD-compatible finish. All accessible elements and surfaces are electrically conductive. Stäubli uses three rigorous tests, for surface resistance, discharge of residual static and transversal conductivity, to confirm ESD conformity.
Stäubli's specialized ESD robots deliver the same outstanding performance as standard models – they are equally precise, fast and reliable in extremely challenging conditions, with no restrictions. Using them in sensitive environments guarantees maximum process reliability and prevents damage to costly electronic components.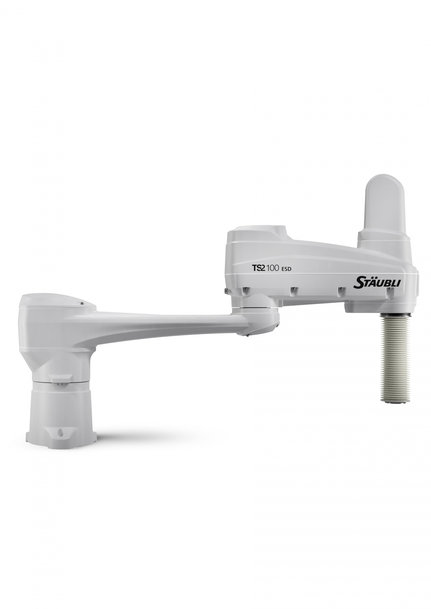 ESD version of the TS2-60: Delivering performance equal to that of the standard model.

New four-axis TS2 series has a lot to offer
At Productronica, Stäubli will show that its four-axis TS2 series has a lot more to offer, beyond the ESD option. "With our completely new SCARA series, we have made a breakthrough into an unprecedented performance class," says Peter Pühringer, Managing Director at Stäubli Robotics. "The four-axis machines with proprietary JCS drive technology make an excellent impression by virtue of their ultra-short cycle times, their pioneering hygienic configuration that excludes any external cabling, and their highly compact design."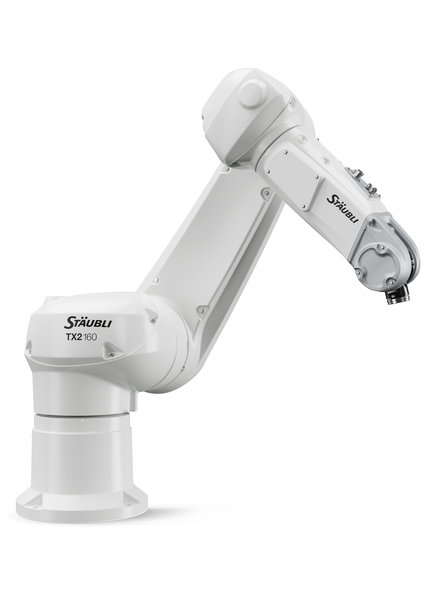 ESD version of the TX2-90: Designed for use in assembly, testing and packaging in the electronics industry.

The new robot group consists of four models: the TS2-40, TS2-60, TS2-80 and TS2 100. The latest addition, the TS2-100, extends the previous working radiuses of 400 - 800 millimeters to an impressive 1,000 mm. Given the superior performance of the new SCARA series, Stäubli is expecting a strong increase in demand, particularly in the electronics industry, where the three factors of dynamics, precision and protection against uncontrolled electrostatic discharge play vital roles.
www.staubli.com